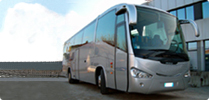 Northern Ireland Coach Tours
Why Tour By Coach? What are the Benefits?
Odyssey offers you Northern Ireland Coach Tours to all the top landmarks in the North of Ireland. So why should you chose coach travel? In the last few years, coach travel has become much more popular as the industry is experiencing a revival that harks back to a golden age. Of course, it is a greener way to travel than driving by car, but it also creates a much more enjoyable trip for people who are careful and pick excellent coach tours. If you are considering a coach tour, here are just a few of the many benefits of traveling by coach.
Sustainability
As we mentioned above, one of the benefits of traveling by coach is that it is a more sustainable choice. Coaches are a very green way to travel simply because large numbers of people are moving together in one vehicle. In addition, many coaches have already adopted green technology that makes them even more efficient. Therefore, the emissions and fossil fuel usage rate per person are very low.
Another reason is because the Northern Ireland has plenty to offer in terms of natural, cultural, and historical beauty, so a coach trip is a great way to really take it in. There are city trips and event trips, and many are carefully routed so that travellers see a lot of beauty and landmarks along the way. So chose a coach trip to visit beautiful landmarks like the Giants Causeway and many around Belfast City Centre.
Safety & Comfort
Those who are concerned with safety will be glad to hear that coaches are much safer to travel in than cars. A coach driver is essentially a professional driver, who delivers you to your destination calmly and safely. This in itself can be another benefit because you can put away the road map, turn off your GPS, and simply lay back while your driver takes you to your destination, stress-free. Many people book coach tours so that can they socialise with others while traveling.
Not only can you socialise, you can actually enjoy the trip as well, because of the high standard of comfort provided in a coach. Luxury seats and large spacious tour buses are a great way to travel. Air conditioning is another plus, and the seats usually recline – helping your back out a great deal compared to driving for hours in the car hunched over the wheel!
Of course, the number one reason that people choose to travel by coach is the fact that it is inexpensive compared to other travel options. As fuel prices tend to rise, it only makes sense to book a coach tour rather than driving, so that you can enjoy the trip and save some money. Plus, the coach will take you right to the destination so you save on parking and taxi fares as well!
https://odysseycoachtours.co.uk/wp-content/uploads/2013/01/Odyssey-Coach-Tours-Scania-Irizar-Century.png
100
209
odysseycoachtours
https://odysseycoachtours.co.uk/wp-content/uploads/2020/02/Odyssey-Logo-320x120-1.png
odysseycoachtours
2022-04-22 16:55:19
2020-02-11 07:33:30
Northern Ireland Coach Tours