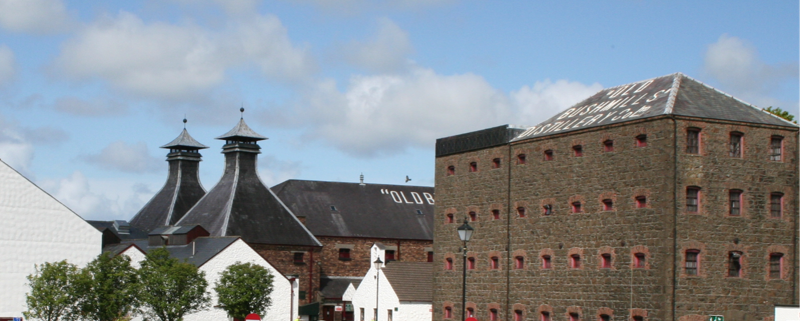 Visit Bushmills Distillery
A History of Bushmills Irish Whiskey
Bushmills Whiskey is a well-known brand distilled in Northern Ireland. The distillery itself is a popular tourist attraction in the region, and it's an even more popular tipple! Last Christmas Bushmills was purchased by Casa Cuervo, but it has a long and fascinating history, which dates back centuries.
According to legend, the distillery was originally started by smugglers, who would battle the Irish after fortifying themselves with a drop of 'aqua vitae.' The distillery became legal in 1608, when King James I granted Sir Thomas Phillips a license to distil whiskey. It was a few years later that the actual Bushmills Old Distillery Company was formally created, and in 1784 Hugh Anderson officially founded the firm.
Fire & Rebuilding
However, while Anderson may have launched the company with great optimism, it had several poor performing years and multiple closures. Patrick Corrigan and spirit merchant Jame McColgan purchased the company in 1860, and by 1880 had turned it into a limited company. They were hit by bad luck in 1885 when a fire destroyed the distillery, but they were able to quickly rebuild. Shortly after in 1890 they sent their first steamship – named appropriately the S.S. Bushmills – to America, to introduce their whiskey overseas. After hitting the States it also travelled to the far eastern ports of Yokohama, Hong Kong, Singapore, and Shanghai.
In the early 1900s the American market played a large role in Bushmills' business, and they were hit hard when Prohibition was introduced in 1920. However, they managed to muddle through the period, confident that prohibition would end – and that they would be prepared when it did. When that inevitable day came, they had stores of whiskey ready to head to America.
Post-War Years
At the close of WWII, the distillery was sold once again – for a brief period – to Isaac Wolfson, who later lost control of it to Irish Distillers in 1972. This company controlled all whiskey made in Ireland during that period.
The group was purchased by Pernod Ricard in 1988, but once again, ownership was short-lived as Diageo bought Bushmills Whiskey for a stunning $200 million (US) in June of 2005. Diageo played an important role in increasing the production of whiskey at the Northern Ireland distillery and are credited with almost doubling production. While they owned the company, they also helped widen its market share. However, in 2014, around Christmas, Diageo decided to trade the Bushmills brand in order to take control of Don Julio tequila from Jose Cuervo. Despite the twists and turns of its long history, Bushmills still uses the clear water of St Columb's Rill in its whiskeys.
Book your tour today!!! Click here
https://odysseycoachtours.co.uk/wp-content/uploads/2014/03/Old_Bushmills_Distillery.png
380
800
odysseycoachtours
https://odysseycoachtours.co.uk/wp-content/uploads/2020/02/Odyssey-Logo-320x120-1.png
odysseycoachtours
2015-09-24 09:13:10
2022-04-28 08:10:20
Visit Bushmills Distillery