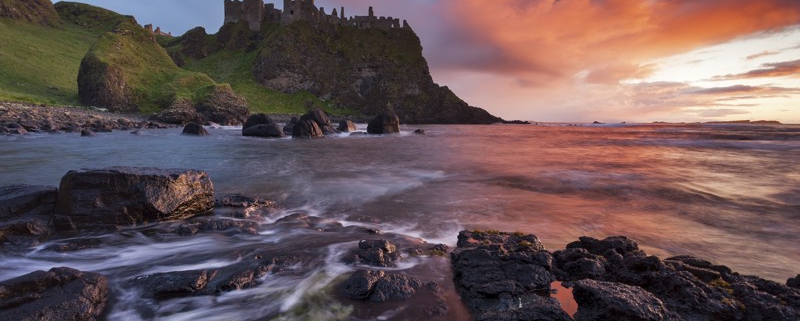 The History of Dunluce Castle
Visit Dunluce Castle with Odyssey Coach Tours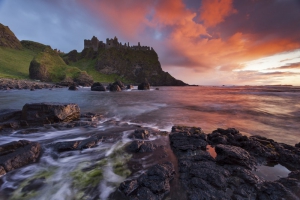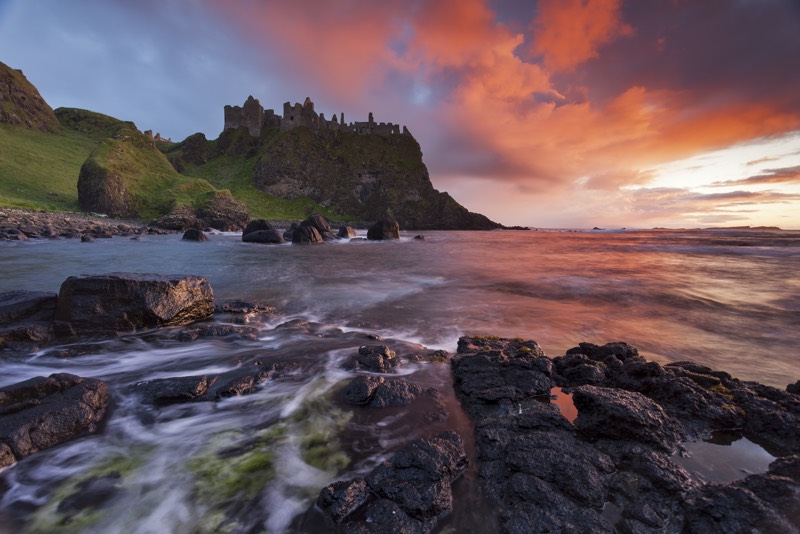 The historic Dunluce Castle is on the coast of County Antrim and perched on top of a high cliff, so the building has to be approached by a bridge. The original castle on that site dated back to 1300, but the building known as Dunluce Castle was erected in the 1500's by the McQuillan clan.
The McQuillans were a Scottish clan that settled in Ireland in the thirteenth century, when they were hired mercenaries. The earliest available written records of the castle date back to the sixteenth century. In the middle of that century, the castle was taken by the MacDonnell clan, who were again Scottish immigrants. The clan's leader Sorly Boy MacDonnell was a fighter, and during his time, the castle was a place of rebellion and intrigue. The clan became the Earls of Antrim from the seventeenth century onwards.
Excavations in recent years have revealed that there was once a town under the auspices of the castle. The housing in the town was said to be well ahead of its time, with indoor toilets! The MacDonnells brought people over from Scotland to help in the building of the town, which also had dungeons and a courthouse. The castle itself also holds the remains of a medieval hall. This small town was built in 1609 but was wiped out in 1691 during the Irish uprisings.
The castle itself, now a ruin, is still owned by the MacDonnell family who currently live in Glenarm. It is now a monument in the care of the Environment Agency of Northern Ireland. Below the castle, there is a huge cavern, which is known as the Mermaid's Cave.
The Castle and the English
The castle was the scene of many battles over a period of a hundred years, mostly due to assaults by the English. For a period of time the MacDonnells were expelled from the castle and made a number of attempts to win it back. Largely as a result of intermarriage between the English and the Irish lairds, the castle was, for a time, in the hands of the Churchills.
Recent History
When the castle first came under the control of the council in 1928, renovations were begun. Because the castle is at the top of a cliff, during World War 2 it was used as a point to watch shipping and to be alert for enemy craft. In the early 70's, the BBC used the castle for one of its early outside broadcasts. In 1973, the castle was featured as part of the centrefold of the Led Zeppelin album "Houses of the Holy". In 2003, the castle featured as a hideout in a film called The Medallion.
Today, visitors to the castle can also experience the scenic walk between Portrush and the heritage site of the Giant's Causeway.
https://odysseycoachtours.co.uk/wp-content/uploads/2016/02/history-of-dunluce-castle.jpg
534
800
odysseycoachtours
https://odysseycoachtours.co.uk/wp-content/uploads/2020/02/Odyssey-Logo-320x120-1.png
odysseycoachtours
2016-02-11 12:02:42
2022-04-28 08:52:29
The History of Dunluce Castle