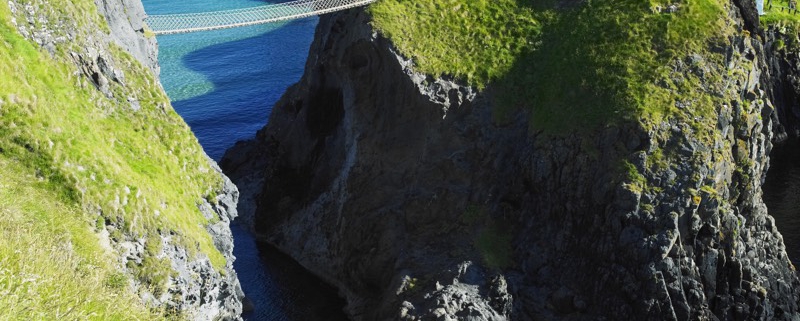 Carrick-a-Rede Rope Bridge
Why you should visit the Carrick-a-Rede Rope Bridge
Carrick-a-Rede Rope Bridge is one of Northern Ireland's top natural attractions due to the stunning sight it offers adventurous travellers. This unusual rope bridge is exhilarating, as it is suspended over a chasm that is 20m wide and 23m deep. The bridge is so popular because of the unique vantage point it offers visitors, allowing them to see the geology, fauna, and flora of the area. The stunning beauty of the region is unmatched and mostly unspoiled, making it a top tourist destination year after year for those who want to see the natural side of Northern Ireland.
Origins
The Carrick-a-Rede rope bridge was originally built by fisherman that wanted a place to check on their salmon nets. When it was first hung it only had a single rope hand rail, so you had to be daring to check in on your nets. However, the National Trust stepped in to make the attraction much safer, and today it features a double handrail and a wooden plank that makes walking across the rope bridge a little less daunting. Of course, you still may not want to look down unless you're a true thrill seeker!
One of the perks of visiting the rope bridge is that there is plenty to see on both sides of the trail that leads to it and away from it, once you get to Carrick Island. A small footpath along the coast leads trekkers to the bridge. The path itself is notable since it offers many vantage points where you can stop and enjoy the natural beauty of the area. Those who are interested in bird watching will find this region a haven.
What To Look Out For
The huge selection of birdlife, that includes kittiwakes, fulmars, razorbills, guillemots, and more, only continues to grow once you make it across the rope bridge to Carrick Island. The island offers a clear view of Scotland across the way, as well as Rathlin Island. This is truly one of the best lookout spots in all of Northern Ireland and it is definitely worth a visit. Locals make the trek out quite frequently, as the beauty is hard to stay away from. Be warned however; the only way back off Carrick Island is over the rope bridge again, so make sure you have your sense of adventure with you.
If you are traveling with a large group, you can arrange for a guided tour that will help point out some of the most spectacular views and points of interest on Carrick Island. In addition, visitors with disabilities that may not be able to walk across the rope bridge should have no problem making it along the coastal path, and over to a viewing platform. Dogs are not allowed to cross the bridge for their safety and the safety of other patrons, so make sure to leave your buddy at home for the trip. The Carrick-a-Rede rope bridge is open during daylight hours, weather permitting.
https://odysseycoachtours.co.uk/wp-content/uploads/2015/12/Carrick-a-Rede-Rope-Bridge.jpg
800
800
odysseycoachtours
https://odysseycoachtours.co.uk/wp-content/uploads/2020/02/Odyssey-Logo-320x120-1.png
odysseycoachtours
2022-04-15 13:12:50
2020-02-01 19:41:50
Carrick-a-Rede Rope Bridge